>> Friday, August 14, 2009
Food cooking time folks and here is what I will share for all of you. I'm the fastest chef caregiver ever! lol. I always cook the easy easy ways like mixing all ingredients then taste it and that's it! Stirring sideways , clockwise or counter clockwise and even crosswise until it becomes sticky then become more sticky up to 30 minutes of rolling. Taste if the corn flour are cooked then put to any baking pan with any designs you choose and let it cold to fridge.So yummy.... below are the ingredients I bought and mixed to a cooking pot.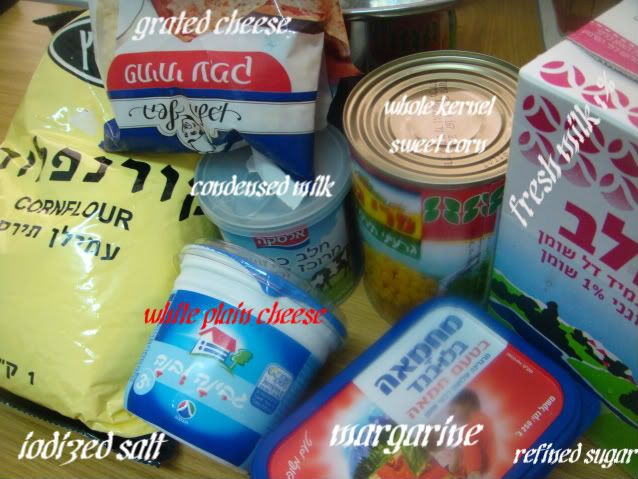 please click to inlarge above image for the complete ingredients
Oooppss...the iodized salt should at least 1/2 teaspoon only and refined sugar will be depending on the sweetness you want to be. I just put one tablespoon so it is not too sweet or sugary fields , hehehe.
First sticky stage
Second and more sticky stage
And this the cold and ready to served sweet maha food.
Hey ...before I forget I want to let you know that this is my first time to cook "maha" since I arrived in Israel.Hallelujah!! how many years already , hahaha. I'm far from Tel Aviv , the central home of most caregivers selling all Filipino foods during day off of Saturdays and Sundays and during our special, declared Philippine holidays.
And ....sorry I never saw this food on any occasions we've been since before. How many weddings,birthdays,barmitzvah(dibut) and dinner we attended. But take a look of all the ingredients I used its all from their supermarkets too.